DISCOVER AT YOUR LEISURE
Discover the recommendez trail map with the species not to be missed (download map)
A trail guide is available at the site entrance or can be downloaded This booklet has been put together with the guides and the team of gardeners. It will help you discover the secrets of this magical place: its history, the atmosphere its plants create, its seasons as well as the fauna and what goes on behind the scenes.
A book in store that tells you everything about the Gardens: Jardins de Valloires by Editions Ulmer (€19.90)
Please note: what to bring: boots in case of rain.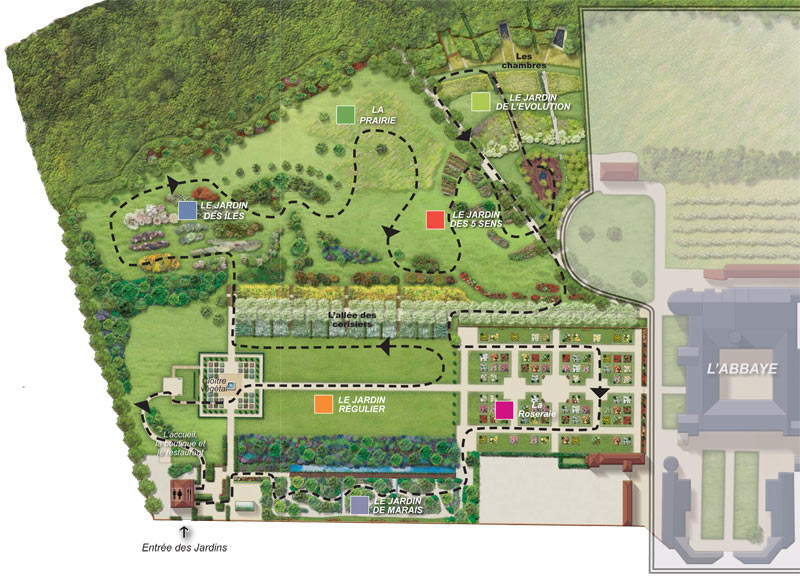 FOLLOW THE GUIDE
From April to November, discover the Gardens over 1 hr 30 with a guide. Your guide will provide all the keys to understand the history of the site, the interaction between man and nature. He'll also teach you to recognise the site's rare and iconic species. Armed with this basic knowledge, you can continue your visit at your own pace.
-Dates: guided tours every Sunday at 11.00 am - no reservation required
- Prices: included in the entry fee
COMBINE YOUR VISIT WITH ABBAYE DE VALLOIRES
The Jardins de Valloires open onto a Cistercian abbey founded in 1158. Destroyed over the centuries, it was rebuilt in the 18th century with its classical architecture mixed with baroque decor.
Combined ticket for the Abbey and Gardens from €13.50
> Discover Valloires Abbey
FAMILY VISITS
A large play area
At Jardins de Valloires, children are kings: they can run on the large lawn, take the little path through the marsh garden or the spiral of the Evolution garden, hide behind the trees or in the wicker hut.
The children's area
But most of all, your little darlings can enjoy new experiences in the Garden of the 5 Senses which is made specially for them: recognising the colours of roses or peonies, listening to the bamboo's swaying dance, smelling the scent of the flowers, touching tree bark and foliage, tasting the forgotten fruit.
New residents
The Gardens welcome their first Ouessant sheep. Come and discover the site's new inhabitants.
Life-size games
During a treasure hunt, follow Chevalier Lamarck on a guided tour where riddles and fun activities come one after the other.
Download the treasure hunt (for children)
Other wooden toys await children to test their balance or just have fun
Green-finger workshop for children during school holidays
- Discover activites
Time to eat!
There's a special children's menu (under 12 years old) at the Table du Jardinier: Pimprenelle menu for €10: poppy lemonade, chicken fillet and baby vegetables....